The Forum was the heart of a Roman city, a place where citizens could gather and share their knowledge and opinions.
The goal of The Fort Lauderdale Forum is to provide a place for reasoned discussion of current issues affecting the lives of citizens in Fort Lauderdale and Broward County.
Our Next Program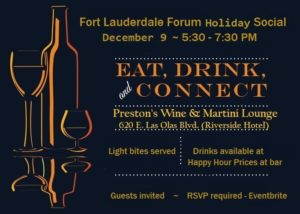 Fort Lauderdale Forum Holiday Social will take place in lieu of a program in December. The after work social is at the Riverside Hotel , Preston's Wine & Martini Bar. Light bites will be served, cash bar at Happy Hour prices.
Please plan to attend and bring a guest . Free to attend;
Please RSVP for Head Count: RSVP Here
The Fort Lauderdale Forum is non-partisan and open to the public.
No cost or obligation.